Fintech Software Development
Utilize the latest technology such as blockchain, artificial intelligence, and machine learning to create innovative financial products.

We will help you navigate the complex regulations and compliance requirements to ensure your financial products are secure and compliant.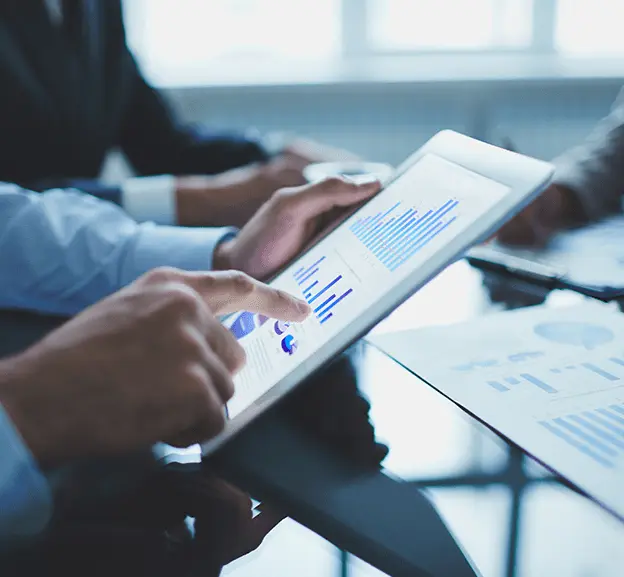 Fintech software development solutions
FinTech Product Development
We are a fintech software development company offering fully-customised FinTech solutions for various business areas, such as wealth management, P2P lending, payroll tools and banking software.

Our goal is to help FinTech businesses stay ahead of the curve by providing tailor-made solutions that meet their specific needs.
Blockchain & Crypto Wallet Development
Blockchain can provide a secure and transparent way to record and track transactions. This can be useful for various  mobile apps, such as creating digital assets and automating financial processes.

We develop crypto wallets that allow individuals and businesses to store, send, and receive digital assets.

Developers are also working on solutions that leverage blockchain and cryptocurrency for peer-to-peer transactions, smart contracts etc.
Banking Software Development
We specialize in developing omnichannel banking solutions, including online mobile banking apps and mobile wallets. These solutions enable consumers to manage their finances on the go, offering a seamless customer experience across all channels and the flexibility to perform transactions at any time.

By integrating with popular platforms like Xero, Paypal, and Stripe, our banking solutions provide customers with a wide range of payment options, secure transactions, and real-time account management capabilities.
Third-Party Integration
In today's fast-paced world, FinTech companies need to stay competitive by leveraging the capabilities of different systems and platforms.

That's why we offer a range of integration services that allow you to connect your FinTech platform to other systems, such as payment gateways, accounting software, CRM, identity verification, credit bureau, blockchain networks, Currency Cloud and Experian.
Payment Systems Development
Reduce the risk of fraud and manage the complexity of different currencies, regulations and compliance. We offer integration with the payment systems like Paypal and Stripe, reducing fraud risk and simplifying currency, regulation and compliance management.

Our services include payment gateway integration, mobile and online payments, multi-currency support, and fraud detection and prevention.
AI & Data Analytics
Track data performance and get deeper analysis for more efficient decision-making with visualization dashboards and forecasting features.

By leveraging advanced technologies such as Mongo Atlas, Elasticsearch, Apache Kafka, and Airflow FinTech companies can improve their operational efficiency, performance and business processes.
Сutting-edge technology, secure solutions, and user-friendly interfaces that let your FinTech product thrive
Fintech software development services
Achieve your business goals by leveraging the latest technologies such as blockchain, AI & machine learning.

Our services include the development of new products and financial services, the automation of certain processes, and the integration of various systems and platforms.
Hire FinTech software engineers, project managers and designers with a deep understanding of the financial industry and the specific challenges and requirements of FinTech custom software development.
Support for features that are yet to be ideated, designed, and developed. For up-and-running products that are to be maintained, put through security tests, and updated regularly.
Get an honest assessment of your future/actual product, or let us seek loopholes in an existing one. You never know when your idea might catch fire, but we recognize the ones that'll make it to the release.
Create a user experience that is functional, familiar, and discoverable. From wireframes and mockups to final designs, we deliver comprehensive design solutions.
Security
Compliance
Assessment
We'll review your systems and processes to identify any vulnerabilities and ensure that you're meeting industry standards such as PCI-DSS and SOC 2.

Our assessment includes a detailed report with recommendations for any necessary improvements, and we'll work with you to implement those changes.
End-to-End Fintech Software Development
When it comes to FinTech products, our team has got you covered with a wide range of services, from mobile and web development to security and compliance.
Mobile accessibility
Security
Automation
Integration with other financial services
Analytics and reporting

User-friendly interfaces
Cloud-based
AI and machine learning
Blockchain-based solutions
Real-time notifications and alerts
Mobile payment apps
Blockchain-based platforms
Online lending platforms
Personal finance management tools

Digital investment platforms
Digital insurance platforms
Cryptocurrency exchanges
Payment and currency conversion systems
Ralabs' developers have succeeded in furthering the development process, resulting in a faster product launch. The team is talented and engaged, making for a free-flowing engagement. Their involvement was critical in helping us deliver our products to the market.
Capitalise - An Investment platform development
We recently developed a monitoring system and mobile app for over 3,000 accountants, which greatly improved B2B loan searching services for over 100 lenders and some of the UK's largest banks. 

The system collects all relevant business data in a user-friendly dashboard, complete with advanced analytics and third-party accountant services. Additionally, we integrated financial APIs to offer a seamless experience for our clients.
CR2 -  omnichannel banking platform development
We developed an award-winning omnichannel banking platform for all mobile phones and platforms that accelerate the customer's digital banking journey. An instant mobile platform that combines mobile payment and personalized banking products.
How can you cooperate with us?
Q&A: Fintech Software Development services
Have more questions? ask us