We're not just
growing the company.
We help our people grow
Projects with a mission, stacks you will love, freedom of operations — or support & mentorship for those who need it. Oh, and no legacy code. We have a feeling you're not into it, really.
How's Ralabs different from anyone else?
Don't get us wrong: we believe in cookies and milk with vitamin D. Only when they're combined with awesome projects and a pro team.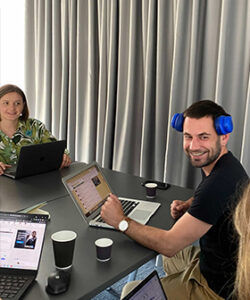 Teamwork, and we mean it.
No lone wolves, teams where "everybody knows your name" and has a Project Manager to turn to.
Hand-picked projects
You're absolutely worth a challenging project and a stack close to your heart — so the clients are to meet our standards, too
Engineering ≠ babysitting
There's always a supportive PM who explains details to the client. While you, developer or designer, can stay busy with the work you do
There's no legacy
Only the awesome legacy of Ralabs — and no code that's been around since the Middle Ages
MacBook for work
Everyone at Ralabs is equipped to run at their best. Not a fan of Steve Jobs? PC happens, so feel free to choose any laptop you will enjoy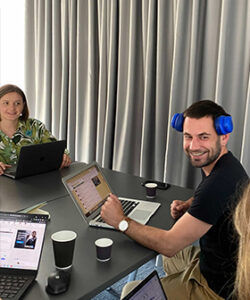 Mentorship programs
We take in talented juniors and turn them into seniors. With love & support + a clear roadmap + real projects to practice on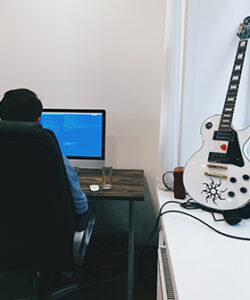 Flexible schedule
Need to pick up a kid, start at 9 AM, or beat those university exams? Life happens, and we're okay with it
The basics
English courses, medical insurance, sports compensation — simple stuff that works
Hey, can I work from home?
We're absolutely remote-friendly. We love working from home on a daily basis but sometimes gather together in a co-working space to have some coffee, chat, and find out how Taras, our Sales-'n'-Marketing Lead, spent his vacation (but we don't make anyone listen).
I have three kids, two dogs, and a hamster. What's your schedule again?
We're flexible, to a certain extent. And absolutely welcome new ideas on how to boost our people's performance. Just make sure to explain your needs and limits, and we'll do whatever we can to meet them.
What is the project I'm about to work on?
No scam, no legacy code, and no client babysitting. Only the projects with a mission, like COVID-19 tracker or mental health app, up-to-the-point tech stack, and a Project Manager who helps with communication.
What's your stack?
Among the majors — JS, Angular, React, Ruby, Python, AWS, and more. Not today, Lisp, not today.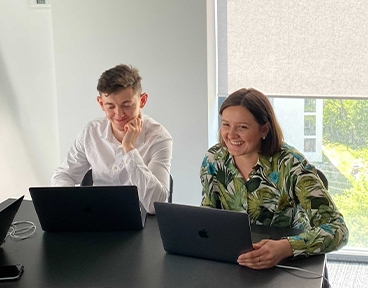 A journey of a thousand code lines begins with dropping a line to us