Outsourcing has definitely become prominent in the world of IT since it allows finding quick solutions of good quality for a lower price. Eastern Europe, India and Asia are the most frequent choices for outsourcing, especially for projects based in the US. But while it seems reasonable for startups to outsource software development, why do huge companies choose to outsource as opposed to hiring engineers in-house?
Let's consider the case of Apple, a company with an established reputation globally, that appears to have much experience in outsourcing.
Why?
In general, companies have been outsourcing more and more over the last decade, and it's pretty reasonable to do so from a business perspective because of the benefits of outsourcing IT. According to a recent 
study
 on why businesses outsource, the three top reasons are to:
reduce the cost of the project
have more control over the core functions
find solutions to capacity issues
Here are some other advantages of outsourcing development: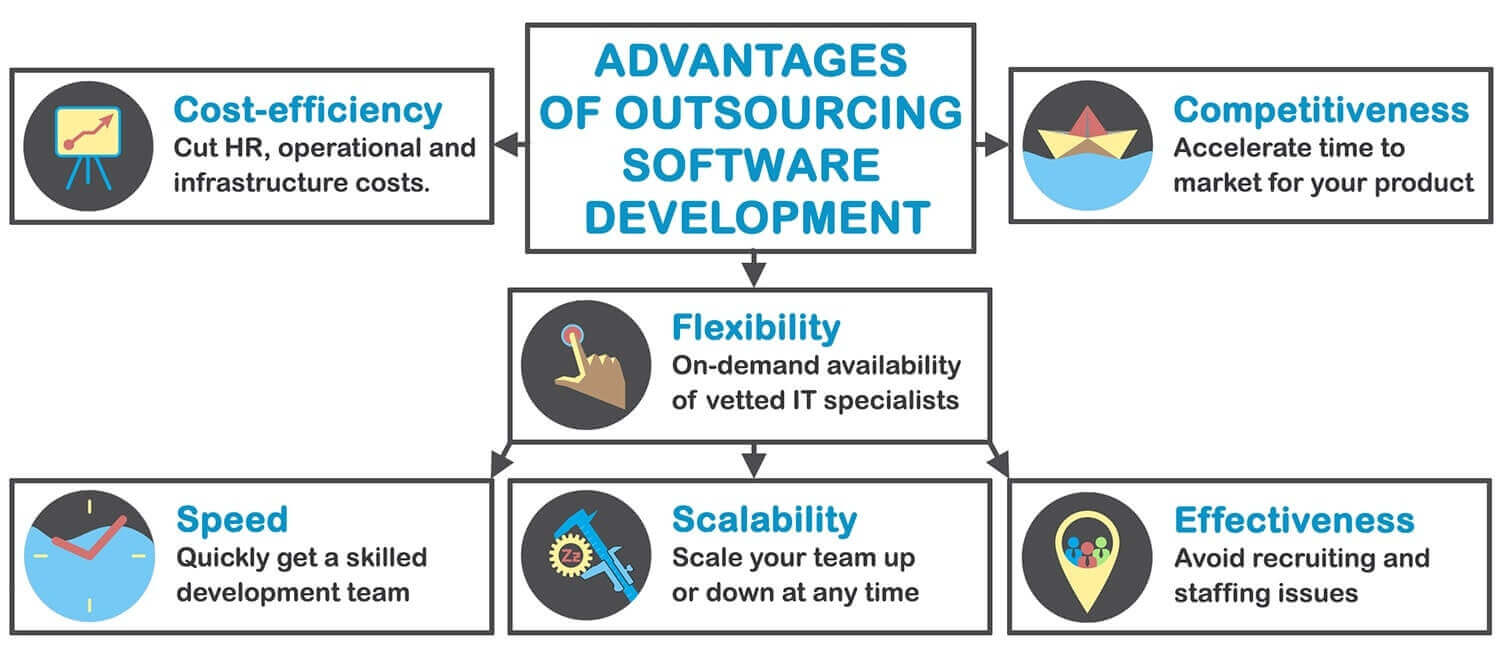 Where?
Considering the destinations that are most often chosen as offshore partners, this year's report ranks India as the number one country for outsourcing software development. It's followed by Ukraine and China, respectively. The criteria for a country to be suitable for outsourcing include a capable and diverse talent pool, the ability to communicate in English and the cost of labor.
It's no secret that Apple has been outsourcing its manufacturing to China for years now. But the media, particularly the American one, did not react well to the news when it first became clear. That was the reason why the company became secretive about its software outsourcing and remains such today.
Have you ever thought of where the new iPhone 2019 introduced at the recent Apple conference was actually made? The top destination for Apple's outsourcing is India: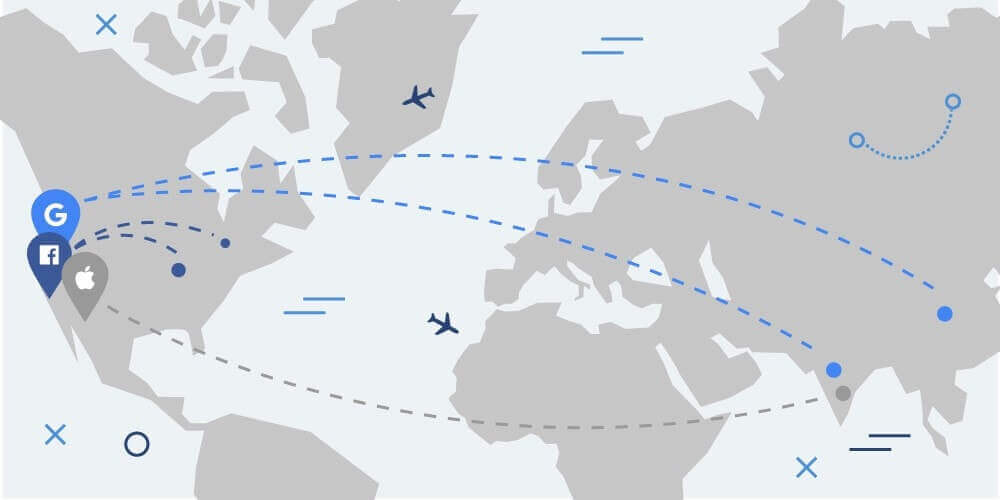 Where big companies (Apple, Google & Facebook) outsource development (Image source)
In 2012, the news on Apple's decision to collaborate with software developers in India was shared online, yet not so many details were revealed. It was announced that the representatives of the company met with Infosys and Wipro, India's biggest consultancy companies, which started the rumors. Eventually, a $100 million part of Apple's budget went to India to develop back-end software for the company's products, and the investment increased by at least four times in the following several years. The outsource aimed to develop software for iPhones. 
In 2017, the info on iPad software being outsourced was confirmed as well. Particularly, Apple news regarding an alliance with Accenture, an IT consulting and outsourcing company functioning in multiple countries, was announced at the time. Apple was looking for an IT solution to develop a range of apps for iOS.
Here's a visual illustrating Apple's value distribution among the activities and countries: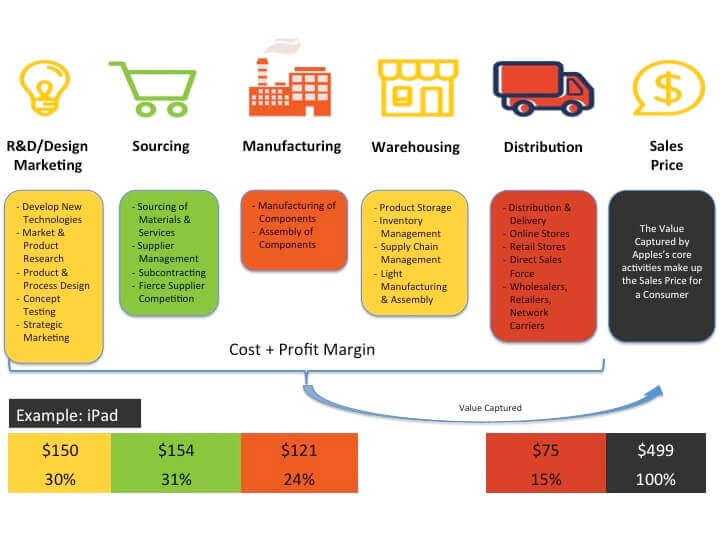 What Does Apple Outsource?
Speaking of Apple's manufacturing being outsourced, it's clear that they get parts and resources that are challenging to access and assemble the products for a lower cost.
But things are less obvious with software outsourcing in terms of what services are offshored in particular. It's true that Apple's products are designed in the US, along with R&D and marketing, yet engineering is conducted globally. These include software audits and performance testing as the biggest part of what Apple outsources.
In addition, Apple's supply chain is pretty complicated because of the numerous overseas connections, which led them to collaborate with German resource planning software.
Of course, cutting the cost of labor is a reason applicable to any company that outsources, and Apple is not an exception. However, it doesn't seem to be a priority. Instead, outsourcing some stages of a product development process allows for flexibility, more control and hence, increased efficiency. The company gets the job done several times faster than when it would be performed in the US:
Another major reason why Apple outsources is that the US does not provide the desired talent pool. As mentioned earlier, the US has not made it to the top 3 countries for outsourcing yet, which gives a hint on its IT talent pool and makes the decision to outsource pretty reasonable. It is the quality of the job performance that Apple pursues, and if it requires moving the project to a different country, it's the price to pay. Consequently, these are the criteria for choosing an offshore software partner for Apple.
And they seem to do everything right, referring to the increasing revenue rates:
Apple quarterly revenue and net profit 2012-2018 (Image source)
Apple is one of the biggest companies on the market today and included to the list of companies that outsource. While the fact of its manufacturing being outsourced to Asia, mostly China, has been clear for years, the offshore software partners are discussed less in the media.
However, it has been confirmed that Apple outsources some software development services to India because of the country's large talent pool and expertise of the specialists. And these facts are not surprising since the company values the reputation it has established and ensures that they continue to produce the best products for their customers.
If even such a giant company as Apple choices outsourcing, this option is definitely worth considering.
Ralabs is an outsourcing partner for 46 companies with over 60 finished projects. We adore what we do, and we love making our clients succeed.